Women's Ministry encourages us to seek God first in all things and to love one another.
Only by His Mercy and Grace are we saved through His Son Jesus Christ. 
We strive to build relationships to support, teach, equip and make us disciples through Christ.
Women's Ministry encourages all women to stay connected to God through prayer, grow in the knowledge of Christ through reading the Bible,
and step out in faith to reach the non-believers with the Good News about Jesus Christ.
Hauʻoli Makahiki Hou 2023!
Discover a new and deeper knowledge of God's Word and the calling He has for you.
Women's Ministry will meet on Saturday, February 11, 2023 at the church from 7:30 a.m. to 9:30 a.m.
Join us for exciting lessons with Max Lucado entitled,
"Unshakable Hope" from RightNow Media. 
Lesson 3: An Heir of God
Lesson 4: Your Prayers Have Power
See you there!
                     *******
           Mahalo nui to all who attended Women's Ministry on December 10, 2022.
Mele Kalikimaka to All
We sure missed those who were unable to attend. We learned about the Advent Season and it's significance as a time to reflect on how we prepare our hearts and homes for Christ's birth in the world as it is today.  It's also a time for us to come together as families and faith communities to remember, through Prayer, being in the Word, reflections, special music, and good deeds what the true meaning of Jesus' birth is.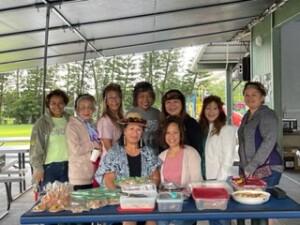 Lisa and Mayra                                                                   Myrtle                                                               Emileen
                Mayra, Lisa, Lynn                         Barbara stole from Lynn, JM stole from Barbara.                  Jennifer stole from JM.
             Christie stole from Jennifer.                     Christie's gorgeous competed quilt.      Our amazing leaders Christie & Pastor Scott.
Pastor Scott Shiroma dropped by as he was preparing for a wedding rehearsal and offered a closing prayer.
*******                        
July 9, 2022 Women's Ministry honoring Delia Moniz on her new journey back to the Philippines.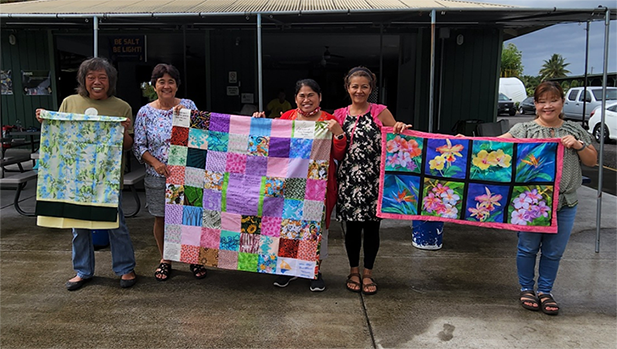 Myrtle Licoan, Vera Nakamura, honoree Delia Moniz, Mayra Martinez, Christie Shiroma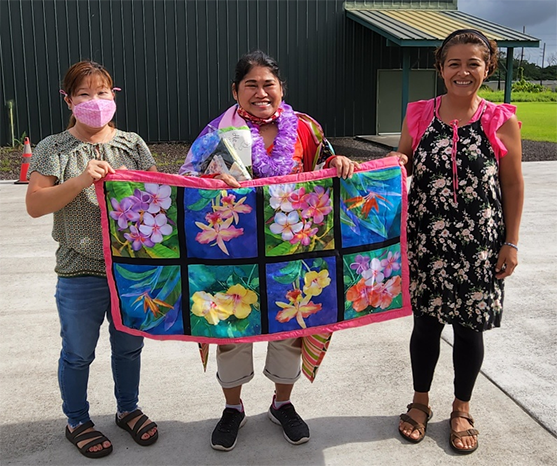 Christie Shiroma, left and Mayra Martinez, right, present Delia Moniz, center
with a tropical floral design wall hanging they created.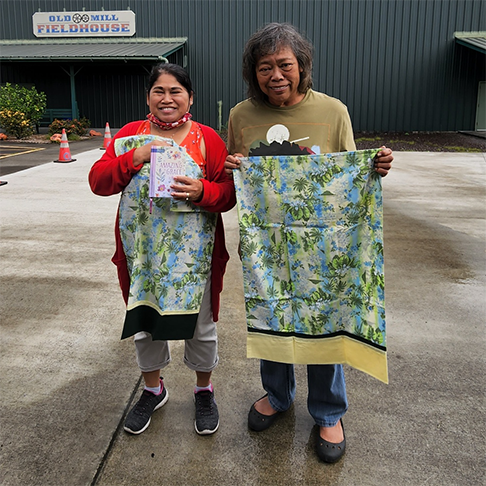 Myrtle Licoan, right presents her original floral design pillow slips to Delia Moniz.
New Hope East Hawai'i Women's Ministry Celebrate with Delia Moniz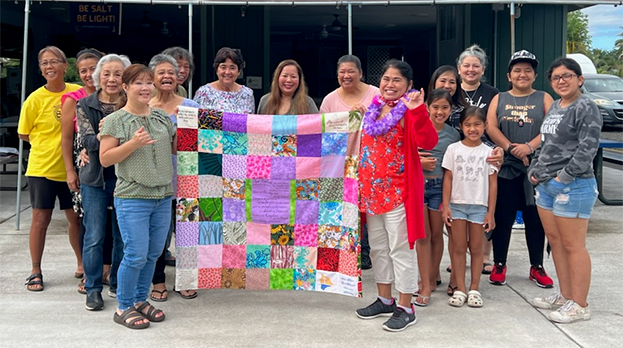 L-R, B. Watanabe, M. Martinez, E. Kawamura, C. Shiroma, H. Moniz, M. Licoan, V. Nakamura,                                   L. Kinoshita, V. Moniz, D. Moniz, J. Balberde, C. Balberde, J. Balberde, J. Arquitola, G. Cho, J. Cho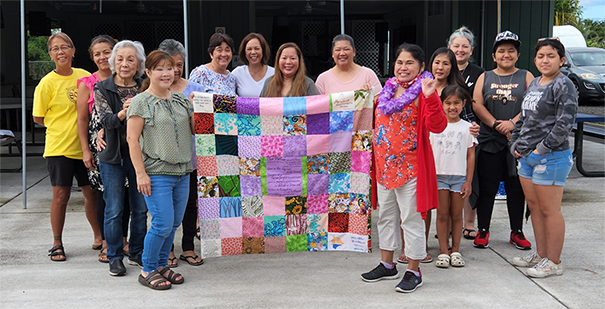 L-R, B. Watanabe, M. Martinez, E. Kawamura, C. Shiroma, H. Moniz, M. Licoan, V. Nakamura, L. Klein                          L. Kinoshita, V. Moniz, D. Moniz, C. Balberde, J. Balberde, J. Arquitola, G. Cho, J. Cho
"If you build the church, you will rarely get disciples,
but if you focus on making disciples, you will always get the church."               
~ Mike Breem ~
Learn the Lord's Prayer in English and Hawaiian.
During the stay at home quarantine from March to June 2020, the following Newsletters and Daily Scriptures were provided to keep us connected to God and each other. You can still enjoy them by clicking on the links below.
WOW GoodNewsletter – April 2020
The Womenʻs Group has a new monthly GoodNewsletter. It is called W.O.W. which stands for Women Of Wonder. Just click on the GoodNewsletter link to read.
Joy of Scripture – April 2020
This is the new monthly Daily Scripture Reading for the month of April. It requires only a few seconds a day to connect with God. Just click on the Joy of Scripture link to read.
This is the new issue of the WOW May Newsletter from our Womenʻs Group. May God continue to bless our ministry work.